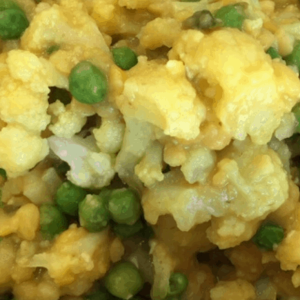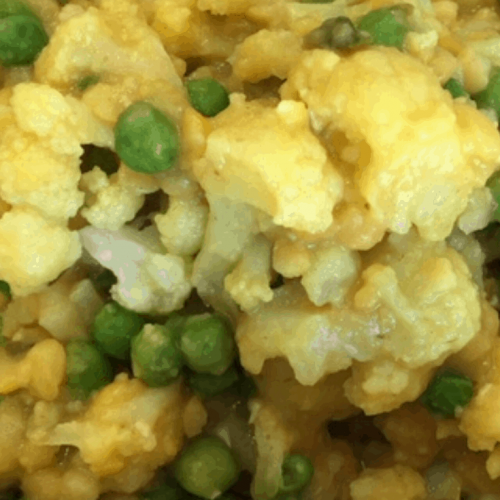 Yellow Split Peas with Cauliflower
This Indian-inspired dish will fill your home with the delightful fragrance of cumin and turmeric. In addition to tasting wonderful, these spices are both known for some pretty impressive health benefits.
Ingredients
2

cups

yellow split peas

3

cups

water

1

teaspoon

salt

2

teaspoons

canola oil

1/2

teaspoon

cumin seed

1/4

teaspoon

ground turmeric

2

jalapenos

1

head

cauliflower

1/2

cup

vegetable broth

2

cups

frozen peas
Instructions
Sort yellow split peas, removing any that look bad and rinse under cold water. Set aside to drain.

Add 3 cups water and salt to a medium sauce pan and bring to a boil, add split peas and stir. Once the water begins to boil again, reduce heat to low and simmer with the lid cracked to vent steam. Cook for 30-40 minutes.

While the split peas are cooking, wash produce. Remove seeds and finely chop jalapeno. Cut cauliflower into florets. Set frozen peas out to start to thaw.

Once the split peas are tender, remove from heat and set aside.

Heat oil in a large skillet over medium-high heat. Add cumin seed, turmeric and jalapenos. Cook for 2 to 3 minutes stirring occasionally.

Add cauliflower and broth. Cover and cook for 3-5 minutes to steam florets. Add split peas and the thawed green peas. Cook about 5 minutes over medium heat, stirring occasionally until hot and enjoy.
Notes
Smart Shopping Tips
Use frozen cauliflower in place of fresh if more affordable.
When available, buy spices from bulk bins and save big compared to individual bottles. This is especially good when you don't often use a spice.
Cooking & Serving Tips:
Get this dish on the table faster by cooking the split peas ahead of time.
Substitute ground cumin for the cumin seed.
Replace jalapenos with any chile you have on hand. Each variety will give the dish a unique flavor.
Use canned garbanzos or black beans in place of frozen peas.
A bit of fresh chopped cilantro or parsley makes a great garnish.
Perk up the flavor with a squeeze or two of lemon.
Chicken broth may be used instead of vegetable broth if you aren't preparing a vegan dish.