Above the doorway to 1201 West Carrier Parkway, a sign welcomes guests with the words, "Papa Bill's Store." Since 1972, Papa Bill—otherwise known as Bill Partridge—has supplied food and resources to foster kids and their families. This location in Grand Prairie is one of several in the state of Texas that provides a full pantry and adoption services to assist foster families in North Texas.
Each of Tarrant Area Food Bank (TAFB)'s partner agencies, of which there are over 330, has its own unique mission, staff, and clientele. Azleway in Grand Prairie is one of our hundreds of locations that serves food and resources to the community. The pantry, which gets its name from its original location on Azle Avenue in Fort Worth, was founded by Partridge originally as a boys' ranch but has since grown into a sizable operation across the state.
"[We] thought we were gonna be a small boys ranch and didn't plan for anything else. And then it developed into foster care and adoption and drug treatment, all kinds of things. We spread over the state, but Dallas/Fort Worth was our original first place," Partridge said.
When Partridge and his wife began the business to help the kids in their community, they did so because that was a demographic close to their hearts.
Partridge said, "Foster care is important to me because I see kids that are put in shelters. Kids now are abused and neglected, and the state doesn't have a place for them and are looking for homes. Foster parents are in short supply; you can't find enough. We feed probably 500 kids every day throughout our system. Some of them are adopted kids, some of them are foster kids, some of them are institutional placements."
Although Azleway has adoption programs that help these children find supportive and loving families, one of the most significant parts of the organization is the fully-stocked pantry that's open daily for families to come get nutritious food.
Partridge said, "People come in and grab a buggy, they get a shopping list, they get to go through and they get to select anything from non-foods to fresh [produce]. We serve up to 60 [families] per month. In the last two years in the community, we fed over 80,000 people."
"Papa Bill's Store" is organized like a grocery store, equipped with shelving systems, refrigerators, and even carts that customers can wheel through the warehouse. This normalized setting ensures that families feel welcome and comfortable as they shop, reducing the worry that they don't have to be concerned about where their next meal will come from.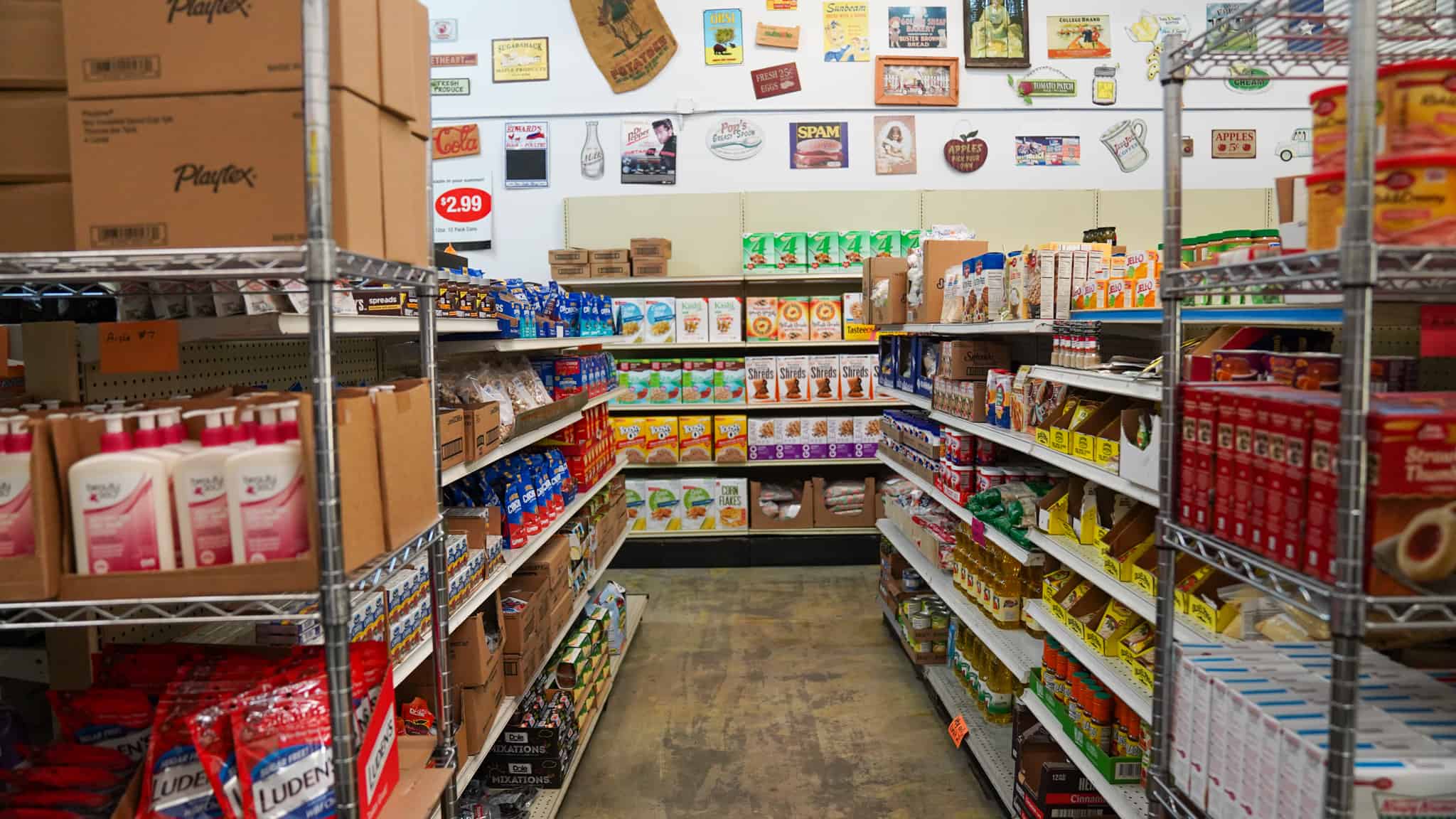 Because of Azleway's size, the location is also a drop-off point for other pantries to come pick up food for their clients. One such organization is Arlington Charities, an Arlington-based hub for food, clothing, and hygiene resources. Executive Director Deborah Cappola praises how her partnership with Azleway and TAFB supports her community.
"Last year we distributed over 1.65 million pounds of food. Of that, I would say eighty to ninety percent came from Tarrant Area Food Bank. Without our partnership with them, there is no way we'd be able to serve the number of people we do. We probably see about 250 to 300 families a week," said Cappola.
Whether it's students in Arlington, foster children in Grand Prairie, or beyond, TAFB's network provides food assistance to people across 13 North Texas counties. With the help of monetary and food donations to TAFB, Azleway and Arlington Charities wouldn't be able to serve their communities as abundantly as they do.
One such example of the people they serve is Liz, a mother of two foster girls. She visits Azleway to pick up groceries for her family of foster kids and greets me with a hug even though it is 8 a.m. and barely over freezing temperatures outside. As she browses the pantry's stocked aisles of nutritious food and toiletries with her cart, her positivity and gratitude is radiant.
"Right now, I have two teenage girls. We could not survive without this service. The food, the toiletries, the gift cards. Everything they provide helps us to do the other needful things for the foster kids," Liz said.
Without the pantry, Liz exmplained, she wouldn't be able to give her girls the privileges they have now like being in band and clubs, as well as getting to visit their biological parents. She considers Azleway and other pantries a blessing to their communities.
Liz said, "I'm just indebted to Mr. Bill, and not just this agency, but every agency that reaches out and extends food. We take that for granted, but our foster kids don't, so this is a blessing. And thank the donors and the loaners. The people who do this, get the food, buy the food, get it here, get it set up, it's a blessing and we appreciate it."
When asked, "Why foster kids?", Partridge did not hesitate before delivering his confident answer that encompasses why Azleway thrives the way it does today:
"They're our kids. So that's our heart."