TAFB'S RESPONSE TO COVID-19
In response to the outbreak, TAFB has strategically and immediately focused on feeding the most vulnerable populations: seniors, children, the homeless, and those just placed in emergency need due to job losses.
New norms of social distancing and soaring need have required TAFB to alter its distribution model, straining logistics and surpassing current capacity. TAFB has increased distribution through its network of 330 partners by 57 percent and we have added weekly Mega Mobile Markets to solve for the increased need in our community. And we have reached capacity with current equipment.
Tarrant Area Food Bank (TAFB) is committed now more than ever to the safety and well-being of our staff, partners and the communities that we serve. Tarrant Area Food Bank constantly monitors developments regarding COVID-19 (coronavirus), relying on information from the CDC, Tarrant County Public Health, and the City of Fort Worth.
We are taking abundant precaution following recommendations of the CDC to prevent the spread of germs. Throughout this time, TAFB must remain committed to our mission to alleviate local hunger. Since we are no longer able to recruit volunteers from the public sector, your monetary support is needed now more than ever.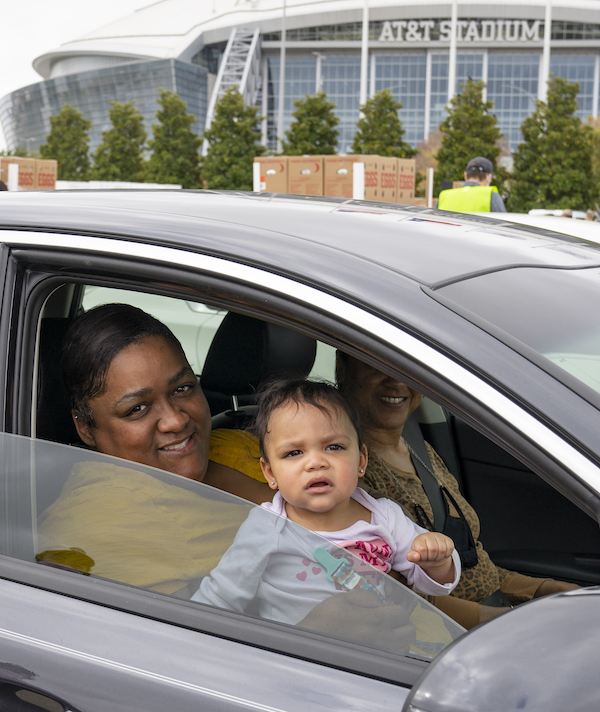 Our distribution of healthy food has increased 43% since last year
Pantries transitioned to drive through to reduce face-to-face interaction and crowding
0
Nutritious Meals
meals distributed by TAFB in FY20
Contribute To Your Community
Right now, your monetary donation will stretch the furthest to support our hunger relief efforts. $10 equals 50 meals for individuals out of school and work.
Be On The Front Lines
After nearly a year of closure, our Volunteer Center is now reopen to volunteers. Or, join a Partner Agency to help distribute food near you.
Tell Us Your Story
Spreading awareness about hunger in the greater Fort Worth area starts with hearing from people on the front lines. Whether you're a donor, volunteer, or a regular at one of our pantries, we'd love to hear from you about your experience with us.
What measures are your staff taking to minimize the risk of spreading the virus?
All of our staff and partners are adhering to strict guidelines with sanitation and social distancing to stay in alignment with COVID-19 safety precautions, including transitioning to drive through distributions, frequently cleaning, wearing masks, social distancing, etc.
Are volunteers shifts still scheduled as usual?
As of February 1, 2020, our Volunteer Center is reopen to volunteers. Click here to sign up. We continue to strictly adhere to strict guidelines with sanitation and social distancing to stay in alignment with COVID-19 safety precautions, including wearing masks and frequently cleaning.
For those who prefer outdoor or local opportunities, our Partner Agencies are also in need of helping hands. Sign up here.
Many of you have asked us, how can I help if I cannot volunteer? We need your support monetarily. If you can give, please donate.
How are your local pantries responding to meeting the needs of the community during the COVID-19 outbreak?
Our agency partners are committed to do all they can during this time of crisis to ensure that food gets to those who need it. TAFB has provided them with the same resources as TAFB to encourage thorough hygiene practices. We are providing our agency partners additional food to provide for increases that may be incurred due to school and company closures. Also, to reduce the risks associated with face-to-face congregations of people at mobile food pantries, we are recommending drive through mobile pantries. This way, pantry guests will remain in their cars and receive food without hazardous contact.
Have you made the decision to cancel any of your upcoming fundraising events?
Our largest annual fundraising event, Empty Bowls 2020, has been cancelled at the recommendation of Tarrant County Public Health and the City of Fort Worth. Given the fact that we raise significant dollars at this event, all ticket proceeds are being reallocated to provide meals for those impacted by school cancellations, job closures and general precautionary measures taken by the community.
Mah Jongg Play Day and Mah Jongg After Dark, scheduled for March 26, 2020, are also cancelled.