Your Investment Changes Lives
More than half a million North Texans, including many children, struggle with hunger. Through sponsorship, volunteering, food drives and more, companies like yours are making a difference.
"Without this help, I wouldn't receive the nourishment I need. I'm thankful that this food is available." – Food pantry guest
From sponsoring a mobile food pantry to investing in education for aspiring chefs, your company can help in many ways. Explore all of our corporate partnership opportunities below.
To learn more contact Jim Macphearson at jim.macphearson@tafb.org or 817-857-7121.
Thank you to our 2018-2019 Corporate Leaders!
7-Eleven
Albertson's/Tom Thumb
AmazonSmile Foundation
Ambit Energy
American Beacon Advisors, Inc.
Amerigroup Corporation
Apex Capital Corp.
B & B Butchers-FW LTD.
Baylor Scott & White Health
Bell Helicopter
Blue Cross Blue Shield
Bobby Cox Companies, Inc.
Bush Brothers & Co.
Caliber Collision Center
Capital One Services, LLC
City of Fort Worth
Conagra
Costco Foods
Darden Restaurants, Inc.
Devon Energy Corporation
Elevate Credit Service, LLC
Exelon Generation Company, LLC
ExxonMobil Corporation
Farmer Bros. Co.
First American Payment Systems
Freese & Nichols, Inc.
Fun Publications, Inc.
H. E. B. / Central Market
Higginbotham Insurance Agency, Inc.
Kellogg Company
Kraft Foods
Kroger
Lockheed Martin AERO Club
Macy's/Bloomingdale's
Martin Sprocket & Gear, Inc.
Subway
Maruchan
McCormick & Co., Inc.
MDM Family Partners LP
NTE Mobility Partners, LLC
Oleander Investments LLC
Omimex Resources, Inc.
Omni Hotels & Resorts
PepsiCo
Pilot Catastrophe Services
Reliant Air Conditioning
Restoration 1 Franchise Holding LLC
Richochet Fuel Distributors, Inc.
Rise Souffle No. 3, LLC
RJM Contractors, Inc.
Sam's Club
Sodexo, Inc.
Synchrony Bank
Texas Health Resources
The J.M. Smucker Co.
The Wal-Mart Foundation
T J Max
TPG Global, LLC
Trinity Commercial Construction, LLC
Triumph Aerostructures – Vought Aircraft Division
United Supermarkets, LLC
Upson Resource Partners
Wells Fargo
Whole Foods Market
Winco Foods
XTO Energy
Young Chevrolet, Inc.
Here's How They Support Us
TAFB.ORG
Providing critical information about TAFB's mission, its website is the highly-visible access point for tens of thousands of stakeholders annually.
FOOD-IS-HEALTH PANTRY
Due to nutrition's impact on wellbeing, TAFB plays a crucial role in community health outcomes. Working with medical professionals, TAFB offers in-clinic pantries so patients can receive during their visits groceries tailored to remediate chronic conditions such as diabetes.
MOBILE PANTRY
Every day, TAFB delivers fresh, perishable food to thousands of people through mobile pantries. Usually offered in food deserts, this program ensures hungry families with little access to healthy food can receive fresh nutrients in neighborhoods marked by difficulty accessing fresh, health-sustaining groceries.
FEED THE NEED
Sponsored by Mclane Foods, your donation will purchase a custom order of meal kits designed with our community in mind. By making a Feed the Need donation, you'll donate safe, socially-distanced meals to a community where the need for food is now greater than ever before.
TAFB FEEDBACK QUARTERLY NEWSLETTER
The official annual sponsor of FEEDBACK, TAFB's quarterly newsletter, distributed to over 40,000 households. FEEDBACK highlights community partnerships and the lives changed through TAFB's services.
SCHOOL PANTRY
School pantries allow struggling families to access nutritious food conveniently at a pantry located at their child's school. The goal is to meet the immediate hunger need of not only the student, but each family member living in the home.
LAST MILE HOME DELIVERY
TAFB partners with Catholic Charities and Meals on Wheels in two different programs to ensure that a lack of mobility among the elderly and other home-bound persons is not a bar to food access. Help ensure that the most vulnerable receive weekly supplies of ready-to-heat meals and bags of fresh produce.
FARMERS MARKETS
Texas farmers need a market for their produce; struggling mothers need to feed their families. In this innovative program, TAFB links the two by holding farmers markets at WIC clinics. Along with fresh fruits and vegetables from the farmers, TAFB provides other groceries and specific items for infants, such as diapers and vitamins.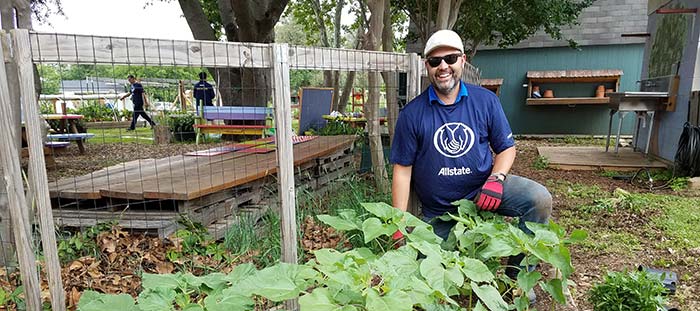 COMMUNITY GARDEN
TAFB's Community Garden program teaches partner agencies to create their own gardens, bringing a sustainable and low-cost source of produce to many different neighborhoods.
SPONSOR A TRUCKLOAD
Through Seasonal Harvest, your donation will sponsor a truckload of food that nourishes our community. From fresh produce to hearty meats, your donation will bring in thousands of nutritious meals for local families.
DELIVERY TRUCKS
Providing one million meals per week requires a substantial logistics operation- and expense. Truck sponsors can ensure food gets to hungry families, along with high-profile recognition on trucks crossing a 13-county service area.
MATCHING CAMPAIGNS
Typically TAFB converts each dollar of revenue into five meals for hungry families. Within a matching campaign gifts are doubled, meaning 10 meals can be provided with each dollar donated up to a certain amount. The increased return on investment and excitement that comes from a united, community effort catches the attention of TAFB supporters and ensures brand affinity.
• Seasonal Matches, such as the holidays, back-to-school and spring produce appeals.
• North Texas Giving Day Match, when each September North Texans support their favorite charity through a one-day festival of online giving.
• Volunteer matches challenging all TAFB volunteers during a month to increase the impact of their gift of time with financial support.