Incorporate More Seafood Into Your Diet During National Seafood Month!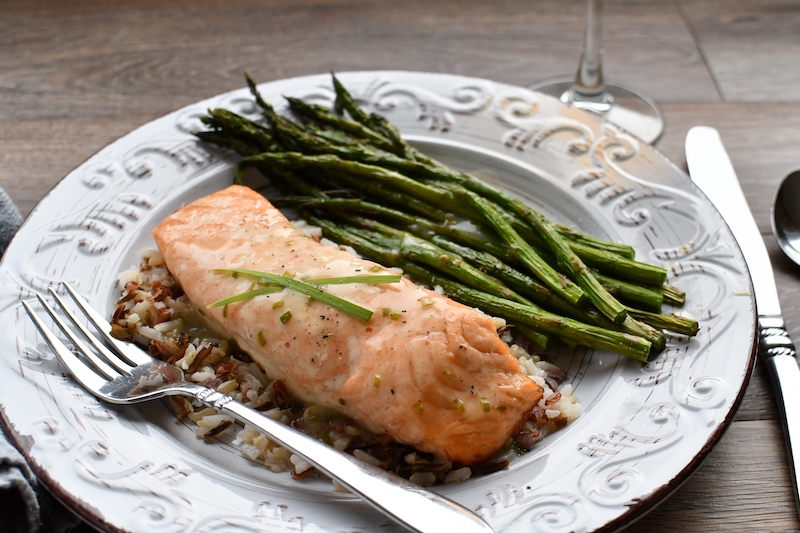 By Viviana Martinez
Program Coordinator, Tarrant Area Food Bank
Having a hard time deciding what's for dinner every night? Are you or your family getting tired of the same dinner options every week? Join us in celebrating National Seafood Month by adding seafood to your dinner menu!
Next time you are at the grocery store, choose seafood. Not only will it bring variety to your menu, but it will also bring numerous health benefits to your family. Seafood is known to be a high-protein food that is low in calories. It is high in vitamins and minerals and offers health benefits such as decreasing the risk of heart attack, stroke and obesity.
Understandably, buying seafood can be intimidating. It is a little trickier than choosing a package of chicken. Here are some tips to help you successfully navigate seafood purchasing.
Shopping at the counter
Only purchase seafood that is displayed on a thick bed of fresh ice, and avoid any melting ice.
Look for whole fish and fillets that are firm, shiny, and have vibrant red gills.
Fish should smell fresh and mild, so be sure to avoid any sour or ammonia-like odors.
Selecting Shellfish
Common shellfish are shrimp, crab, lobster, mussels, oysters and clams.
The shellfish should be a bright, clean color.
Avoid any shells that are cracked or broken.
Live shellfish such as mussels, oysters, clams, crab and lobster should have movement. They can spoil quickly, so if there is no movement do not purchase them.
Buying Frozen
It may appear less appealing, but if you purchase frozen seafood right you can have great results.
Don't overlook frozen seafood.
Always look for the label "Frozen-at-Sea" (FAS). These fish are caught on boats that will process, freeze and store at below zero degrees day of catch. This can often result in seafood being fresher than what is sold as "fresh."
Canned Fish
Choosing canned or pouched fish is a great, quick protein add-in option.
Tasty options can include salmon, mackerel, herring, sardines and tuna.
Look for cans that have the fish in water rather than oil.

Salmon Patties
Try this hauntingly good, easy-to-make salmon patties. Not only is it fast and delicious, but you also won't have to worry about braving a crowd to eat at a restaurant.
Ingredients
1 can (15-ounces) salmon
5 ounces frozen spinach
1 cup breadcrumbs
2 eggs
1/2 cup low-fat milk
1/4 teaspoon pepper
2 tablespoons canola oil
Preparation
Thaw spinach. When ready, drain off liquid, squeezing it to remove more water. Set aside.
Wipe off top of salmon can before opening. In a medium bowl, flake salmon with a fork or with clean fingers until very fine, removing any large bones. Add spinach and breadcrumbs and mix to combine.
In a separate bowl, whisk together milk, eggs and pepper. Add to salmon mixture and combine thoroughly.
Shape mixture into 10 patties.
Heat oil in a large skillet. Scoop out a heaping 1/4 cup for each patty. Place on heated skillet and press down slightly to flatten. Over medium heat, brown patties in two batches on both sides until thoroughly cooked (2-3 minutes per side).
This recipe is only 1 of 10 ways to use canned salmon. Find more here.
If you are looking for a spooky good time, join us for virtual cooking and gardening workshops to learn more about cooking tricks and treats. Visit our Eventbrite page to register for upcoming virtual class.