Mega Mobile Markets Make a Mega Impact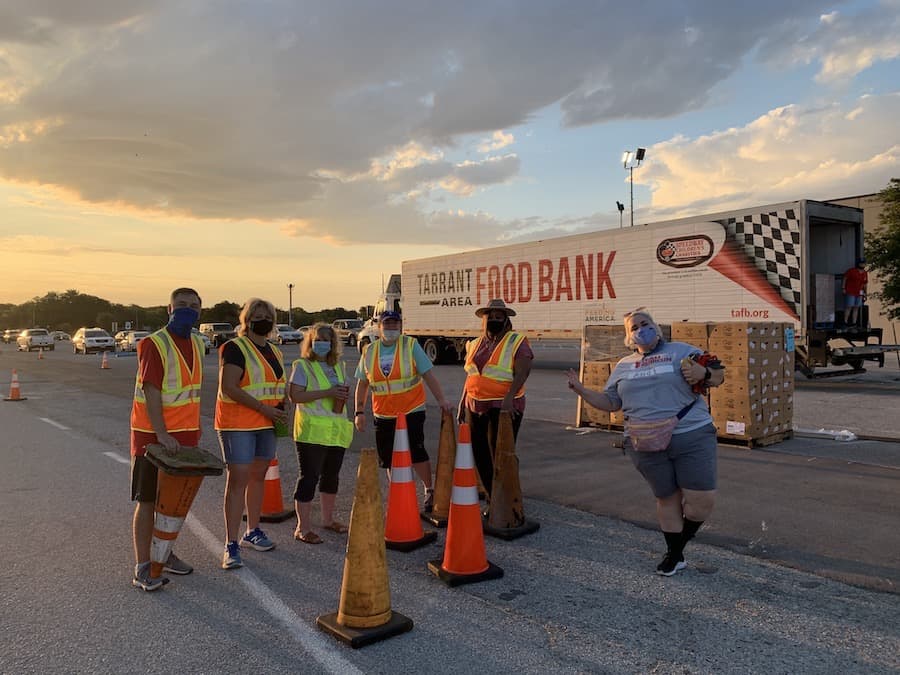 "Me and my husband are not working right now because of the pandemic," Diana Campos told us in April 2020 while waiting in line for food at TCC Northwest's mobile market. "The food bank helps me a lot. We're going little by little. I'm prepared and I'm scared. I think it's gonna get worse, I don't think it's gonna get better."
Nearly five months later, the lines for mobile markets (drive through food distributions) continue to grow. As the pandemic lingers in Texas, so too does the unprecedented rise in hunger. As people are laid off and unemployment checks hang in the balance, the uncertainty has prompted many Texans to seek food assistance for the first time. Feeding Texas reported that the percentage of food insecure families has doubled since the start of the COVID-19 pandemic.
Since March 2020, Tarrant Area Food Bank (TAFB) in Fort Worth has provided food and essentials to hundreds of Partner Agencies and added 30 special feeding events per week to meet the need. Compared to pre-COVID operations, Tarrant Area Food Bank is experiencing a 60% increase in providing food. Helping to alleviate the increase in food insecurity is TAFB's new Mega Mobile Markets, held every Friday to distribute fresh produce, protein, and other nutritious food to the nearby community.
Mobile markets are temporary food distribution set-ups all across Tarrant Area Food Bank's 13-county service region. Empty parking lots and gymnasiums are transformed into temporary food distribution lines. Driving by on an average day, you would never know that your local church parking lot could feed hundreds of families with a truck full of food delivered once a month. Though TAFB has held mobile markets since 2010, one thing is new as a result of COVID-19: drive through distributions. By having families stay in their cars and volunteers and staff deposit food in their trunks, the effectiveness, speed, and safety of mobile markets is maximized.
From March through July 2020, the 136th Airlift Wing of the Air National Guard (ANG) assisted TAFB by packing emergency boxes and staffing these mobile distributions that were—and continue to be—highly attended. Following in the ANG's standard operating procedures, Tarrant Area Food Bank now recruits over 75 employees, volunteers, and contract workers each Friday to provide cars in line with nearly 100 pounds of fresh food. What food can families expect in the boxes provided at Mega Mobile Markets? Anything from fresh produce to frozen chicken, as well as pantry staples and kid-friendly snacks.
The first Mega Mobile Market was held on August 14 in White Settlement with the hope to serve 500 families. Over the course of four hours, more than 750 families drove away with their cars stuffed full of fresh food.
"It's a home run!" said Julie Butner, President and CEO of Tarrant Area Food Bank, after the soft launch of the first drive through market.
One week later, the Mega Mobile Market at Herman Clark Stadium served just over 900 families, a 20% increase in turnout. And the next week, another 22% increase that fed 1,127 families. Tarrant Area Food Bank anticipates this number will only climb as word gets out and more volunteers enlist to help the line of cars move faster.
One loyal helper is Kevin Zapata, who has been working with Tarrant Area Food Bank since March to help in the Volunteer Center and at mobile markets.
Zapata said, "As a member of the Air National Guard, I started helping the Tarrant Area Food Band back in March. It's a great thing to do; helping the community in such a time of need. Everyone that's coming through is so appreciative of all the food, as well as all the hard work that goes into events like these. As much as it bums me out that so many people need help, it's a wonderful feeling to know you had a hand in helping 903 families have access to food."
Tarrant Area Food Bank intends to host Mega Mobile Markets until November, hoping to push thousands of pounds of food out into the community every week. If you're interested in dedicating your Friday mornings to volunteer and help with this mission, sign up here.
Mega Mobile Markets are one of many programs TAFB has created to alleviate hunger during the COVID-19 pandemic. To learn more about what Tarrant Area Food Bank is doing to combat increased hunger during the pandemic, visit tafb.org/coronavirus.