Supporting Wellness at Pantries (SWAP)
In 2022, Tarrant Area Food Bank put a Nutrition Policy into effect to prioritize the sourcing and distribution of healthy food. To ensure we are meeting the standards set out in the policy, TAFB also launched the SWAP program. Supporting Wellness at Pantries (SWAP) is a stoplight nutrition ranking system designed to help promote healthy food choices at food banks and food pantries. It categorizes food as Green, Yellow, or Red, based on its nutrition value. SWAP does three key things:
Provides an analytical tool used to assess food items against nutrition standards that influences our food sourcing efforts
Creates a system for reporting on overall food quality levels in inventory
Offers resources to communicate key health messages about food
SWAP helps us know how we're doing and where we can improve on our goal to provide nutritious food. By having a policy and a way to assess our effectiveness, we can make better decisions when acquiring and distributing food and embody our belief that food is health.
SWAP ranks food based on levels of saturated fat, sodium, and added sugar. These nutrients were selected because they are listed as "nutrients to limit" in the United States Dietary Guidelines and can negatively impact chronic diseases.
Food is then assigned to one of three SWAP categories, Green, Yellow, or Red.
It should be noted that some items, like cooking supplies, condiments, and baby food, are "Unranked" or "Not Eligible" for SWAP ranking. Also, food that arrives in large batches of miscellaneous products are labeled "Assorted – Not Ranked".
Using SWAP to Promote Heathy Foods:
In addition to informing procurement, distribution of food and assessing our effectiveness in meeting the standards set out in the Nutrition Policy, we encourage and support our Partner Agencies in incorporating SWAP in their food pantries.
For Agencies, the first step is to use SWAP rankings in deciding what foods to select from our shopping sites. Selecting a significant amount of food items from the Green and Yellow categories will provide a good mix of healthy options for guests to select.
SWAP is being incorporated into our Healthy Pantry Project work. However, all Agencies that use the client choice model, where guests are empowered to choose their food with dignity, can implement SWAP. By using SWAP's health promotion tools, agencies make it easier than ever for guests to make choices that support a balanced diet. This is accomplished by adding shelf tags, posters, handouts, recipes, and other print materials, and by merchandizing healthy items effectively throughout the pantry. To support these efforts, Tarrant Area Food Bank offers these resources and training for Agency staff and volunteers.
We are exploring additional uses of SWAP, such as analyzing our recipes and indicating the SWAP rank on print recipes and in our GoHealthy Recipe Library.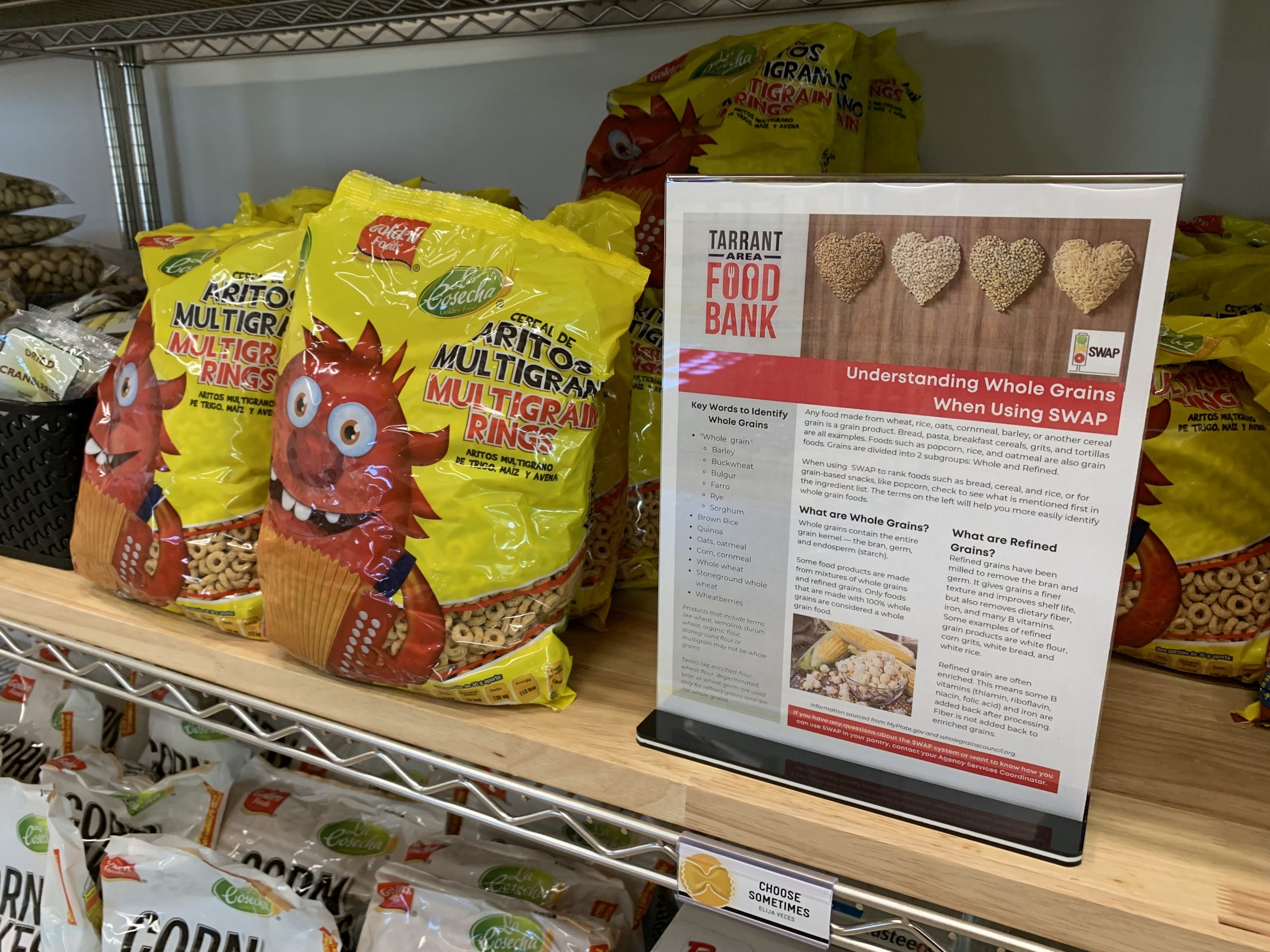 The SWAP system was developed by researchers at the University of Saint Joseph (USJ), and was a collaborative effort between USJ, the UConn Rudd Center for Food Policy & Obesity, and the Council of Churches of Greater Bridgeport.
Tarrant Area Food Bank launched the SWAP program with support from Connecticut FoodShare and the Institute for Hunger Research & Solutions.